FAQs & Wedding Planning Videos
Get answers to the most common wedding planning FAQs from
Jennifer Mary Events past clients and social media.
About JME Wedding Planning Services
What happens at the beginning of the process when we contact you?
---
Well, first, congratulations on your engagement! We are truly thankful for every couple considering Jennifer Mary Events to be a part of their special day. We believe that this is a mutual investment between the both of us. We want you to trust JME to fulfill your vision, and we want to make sure we exceed your expectations.

We'll have an initial consultation where we get to know each other better, and I'll ask you several questions about your wedding before sending over a customized proposal.
---
We love your site and portfolio but finding someone who is the perfect fit is the top priority. What makes you different from other Las Vegas wedding planners?
---
On your special day, we do not want you to be the coordinator. We want you to be a bride/groom! You've dreamt about this day for so long, which is why we are committed to making the process fun, enjoyable, and stress-free.

With us by your side, your wedding day will be the best representation of your combined styles, infused with good feelings and cherished memories. You can count on us to deliver your perfect day with a calm disposition, attention to detail, and exuberant attitude. For all those reasons, we only take on a limited number of clients per year.
You can discover more information about our approach and each JME team member who may be present on your wedding day should you decide to work with us by visiting the About page.
---
Do you take on more than one wedding per day?
---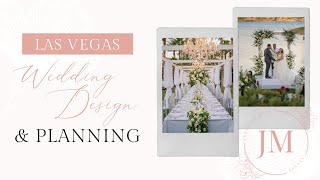 ---
What area do you service? Do you travel?
---
We currently service Las Vegas, NV. We do travel for destination weddings with travel accommodations compensated for.
---
I don't live in Las Vegas but want a destination wedding. How would we be able to work together?
---
Destination couples have to be one of our favorites because they'll truly get to see their vision come to life the day of their wedding! We would say 70% of my couples are actually out of state. We'll have multiple Facetime or Skype calls during my venue tours and vendor searching.

We like to let our couples know that we'll be the eyes and ears they need in Vegas to make sure all their plans are coming together, and of course, we communicate each box checked along the way. We know that a great deal of trust has gone into our abilities to make your vision come true and work towards exceeding your wants and needs at every stage of the process.
---
What is one of the best ways to get a good idea of what it is like to work with you?
---
We invite you to read love notes, reviews, and ratings from couples who choose Jennifer Mary events as their go-to Las Vegas wedding planner. They were once in your shoes and have had the same concerns and expectations as you. To us, their reviews are a true testament to the attention to detail, dedication, coordination, and genuine care we bring to each couple's planning process.
---
---
FAQs About The Wedding Planning Process
How much does a Las Vegas wedding cost?
---
Just as no two couples and weddings are alike, neither are two wedding budgets alike. The amount you spend on your Vegas wedding depends on the venue space, floral selections, attire cost (are you buying or renting), decor, vendors, and much more.

When setting a budget for your wedding, we encourage our brides and grooms to come up with an amount they feel is reasonable, within their comfort zone, and allows them to have some wiggle room (just in case you need it later down the road).
---
Is hiring a wedding planner something that will fit in our wedding cost?
---
The simple answer is YES! The average couple spends approximately 300 hours planning their wedding. That's crazy when you stop and think how all that time eats into your work and family lives. Most of that time is spent interviewing wedding vendors and venues to find a good fit. When you work with a wedding planner for your Las Vegas wedding, you'll eliminate the need to do that.

We have done our homework and have formed relationships with venues and quality vendors. We know who and what will work best for the type of day you are envisioning. Our experience, connections, and commitment to planning your day as you envision it will eliminate stress, save you countless hours, and allow you to spend that time with each other.

With our variety of wedding planning service packages, you are bound to find the perfect planning solution for your happily ever after.
---
What is the difference between Partial Wedding Planning and Full Wedding Planning?
---
A Full Wedding Planner is typically working with you at the very beginning stages of your planning process to do just that, plan the wedding with you. They attend vendor meetings with you and handle all of the legwork. They will create your wedding vision with a customized vendor team that meets your style, expectations, and budget. A planner takes away all the stress that comes with wedding planning and allows you to enjoy the fun parts, like saying "Yes to the Dress!"

Partial Wedding Planning may be the right choice if you and your fiance can scout your venue, dive into the details of your wedding theme, color scheme, and decor, but want a wedding manager with whom you both can partner. It is a guidance package in which you will receive advice throughout your wedding planning process to ensure your planning incorporates all aspects and delivers you both with the wedding of your dreams.
---
My wedding venue offers an On-Site-Coordinator already. Do I need a Wedding Planner/Coordinator?
---
Absolutely! The reason why is because the venue's day of coordinator does not work for you. They work for the wedding venue. That means they get pulled away numerous times to attend to staffing issues or maintenance concerns. If your ceremony happens to be off-site, they will not be there with you. They are limited to what the venue will allow them to do during your wedding day and planning process. When you hire a Wedding Planner/Coordinator, they are employed by you, which means their time and attention go towards you and your event! You are their top priority, and they will always have your best interest when coordinating the details.
---
Do I need extra help if my family and friends have already offered?
---
A quick reply to that question would be to remind you that your bridal party and family are guests at your wedding. They should be able to enjoy the day, along with the rest of the attendees, enjoying great food and celebrating your love. The longer answer is deeper. Are they reliable and able to think quickly on their feet? Do they have the personality for it; organized, remain calm under pressure, have leadership skills? A wedding planner protects the bride and groom from unneeded stress. Let us be the go-to person for every unexpected hiccup and control the situation without missing a beat. Hiring a Wedding Coordinator is an assurance that you, and all your loved ones, will be able to enjoy the day to the fullest.
---
What is the difference between an intimate wedding and elopement?
---
There are dozens of wedding movies out there painting a picture of what a small wedding should be and how it should look. As a result, some couples may consider them to be the same. Though both types of ceremonies are romantic, an intimate wedding typically has a small guest count of over 20, a vow ceremony, and sometimes a reception; an elopement typically is just a private exchange of vows with an officiant, witnesses, or a small guest count of up to 20. Discover more by checking out our elopement package.
---
Should we have a first look?
---
First looks have become increasingly popular in the last ten or so years, and for good reasons. They provide the opportunity to capture an intimate exchange of smiles, tears, laughter, and joy. In all of our years helping brides and grooms plan their perfect day, we have never had a couple regret their first look. However, it isn't for every couple. If you have always envisioned the look you'll get from your love as you/they walk down the aisle, don't feel like you have to buckle. Nothing will ever replace that magical moment. Discuss the possibility with each other and your photographer if you do decide to have a first look. Your photographer can provide you both with information on what to do and how long it will take.
---
Should we have an open bar?
---
You know your crowd the best. It comes down to your preferences and those of your guests. If an open bar would add to the energy of your celebration, go for it. On the other hand, if your guests are not much of a drinking group, it makes sense to opt-out of an open bar.
---
How can we find the best venue?
---
Finding the right wedding venue in Las Vegas can feel like searching for a needle in a haystack. If you do not have the time or patience to explore options and get quotes, our Full Wedding Planning package can help. We search for the best venues that pair well with your theme, style, and wedding investment and present you with the top options and what each wedding venue can provide.

If you prefer to search yourselves, I suggest taking to WeddingWire, The Knot, and Google to find venues that check all of the boxes on your checklist and provide a memorable experience for guests (if that is important to you.) For example, some couples have wedding guests from out of town, so accommodations and conveniences matter when selecting a venue.
---
---
Do you have a list of vendors you work with or do you work with anyone?